OA280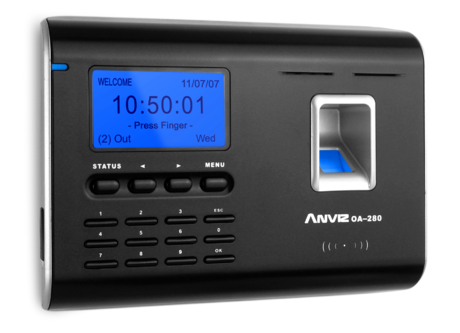 Info
·OA280 is the fingerprint time attendance and access control system designed for medium to large size businesses.
·It integrates LCD, keypad, optical fingerprint sensor, card reader and access control components. Graphic user interface allows OA280 to display all languages in the world.
·The Ipod style design makes OA280 much more attractive than ordinary products. What is more important, OA280 utilizes the latest FRAM technique, which enables more than 10000 times of data read and write as ordinary technology.
·Meanwhile, the stability and speed can be ensured. Special Cache communication has increased the data process speed by 5 times.
·Optional ID, Mifare and HID card reader is specially designed for the existing card users and higher security level.
·In addition, with unique Status button, users can have great convenience to manage complicated custom-defined job code or time attendance status in practical situation.
·OA280 is a perfect combination of appearance outside and performance inside.
Feature
·World leading brand. Korean industrial design. Blue LCD
·Anviz optical fingerprint sensor, scratch-proof, unbreakable and durable. Well accept all kinds of fingerprints
·USA TI high performance DSP, Philips 32-bit ARM processor. Super-duo-core. 2009 version improved core module, more secure and
better performance
·Fingerprint strengthen membrane originally from Taiwan which greatly enhances the identification of wet or dry fingers.
·Stand-alone without being connected with computer. Standard fingerprint capacity 2000. Standard record capacity 150000
·Multiple identification method: FP,Card,ID+FP,ID+Card,ID+PW,ID+FP+Card,ID+FP+PW,ID+Card+PW,ID+FP+Card+PW
·Optional ID, Mifare or HID card reader
·Support staff name display, 16 customizable time attendance status and multimedia voice prompt
·Standard RS232/485 and TCP/IP communication. Wiegand 26/34 and dry contact output
·Optional SC021 or SC822 access controller for separate type secure access control
·Support realtime record download and WEB online tracking function
·Suitable for all kinds of complicated time attendance management, easy-to-use and user-friendly software
·Wall mounted, special tamper proof design, combined 2-in-1 function for time attendance and access control
Register Method
Fingerprint   Card   Password 
| | |
| --- | --- |
| Item | Description |
| Sensor | Anviz optical sensor |
| LCD | 128*64 Blue LCD |
| Identification Method | FP,Card,ID+FP,ID+Card,ID+PW,ID+FP+Card,ID+FP+PW,ID+Card+PW,ID+FP+Card+PW |
| Identification Time | ≤1 second |
| Register Method | Fingerprint, Password, RFID/Mifare/HID card(Optional) |
| Fingerprint Capacity | 2000/5000(Optional) |
| Record Capacity | 150000 |
| FRR | 0.001% |
| FAR | 0.00001% |
| Standard Port | RS232、RS485、TCP/IP、Wiegand26、dry contact output |
| ESD Tolerance | >15000V |
| Power | DC 12V |
| Temperature/Humidity | -10℃~60℃ / 20%~ 80% |
| Size | 205(w)*145(h)*37(d) mm |
| Color | Black(customizable) |

OA280.pdf