T5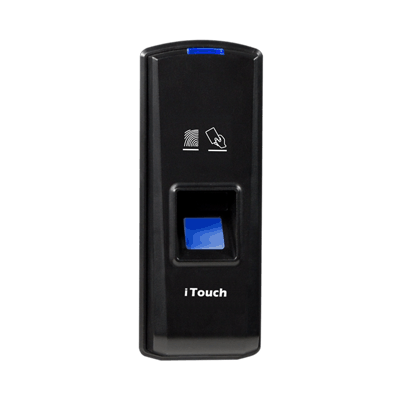 Info
·T5 is an innovative fingerprint card access reader which fully integrates
fingerprint and RFID technology.
·The very compact design makes it suitable for installation on door frame. T5 has standard Wiegand output to connect seamlessly with access controllers.
·T5 can easily update the existing card readers for higher security level of fingerprint and card.
Feature
·Small in size and compact in design. Can be easily installed on doorframe
·Anviz optical fingerprint reader. Scratch-proof, unbreakable and durable. Well accept all kinds of fingerprints
·Steady 2009 version algorithm platform for T&A and access control, high performance and reliability
·Identification method: fingerprint, card, fingerprint + card, fingerprint on card
·RFID , Mifare or HID card module. Compatible with industrial standard
·Fingerprint Storage Capacity: 512
·Easy user enrollment on the unit via Master Card or in the management software on computer
·Communicate with computer via RS232, RS232, Mini USB
·Standard Wiegand26 output to connect with standard access controller and Anviz encrypted
·Wiegand output to connect with Anviz simple access controller SC021
Register Method
Fingerprint   Card   
| | |
| --- | --- |
| Item | Description |
| Sensor | Anviz optical sensor |
| Identification Method | FP,CARD, CARD+FP |
| Identification Time | <1 second |
| Register Method | Fingerprint, Card |
| Scan Area | 22mm*18mm |
| Resolution | 500DPI |
| Fingerprint Capacity | 512 |
| Record Capacity | 32000 |
| FRR | 0.001% |
| FAR | 0.00001% |
| Standard Port | Mini USB, RS485, Wiegand26/34 |
| Power | DC 12V, 300mA |
| Temperature/Humidity | -10℃-60℃ |
| Casing Material | ABS industrial plastic |
| Size | 55(w)*145(h)*37(d) mm |
| Color | Silver, Black(customizable) |