ePass1000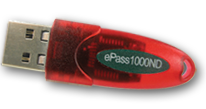 The Internet has become a necessary part of doing business. But with the growth of the Internet have come threats to businesses from hackers, network snooping devices, viruses and other sources that are now part-and-parcel of the public Internet - these threats have become a cost of doing business. The PKI model was developed to enable secure transactions and communications over the Internet, primarily through providing services for authentication, identification and encryption of sensitive information.
ePass1000 is a cost effective and important enhancement to the PKI model, it is the ideal solution for PKI applications.
ePass1000 is a USB token, compact and portable. ePass1000 was designed to offer authentication, verification and information encryption services, and support E-mail encryption, digital signatures and SSL using Internet Explorer, Outlook, Outlook Express, Netscape Communicator or any software product based on the MS CAPI or PKCS#11 standards. In addition, ePass1000 is remarkably versatile and Feitian's SDK may be used to create many other user defined applications.
ePass1000 supports Windows 98/2000/ME/XP/Vista, MAC OS 8/9 and Linux. (Note: OS compatibility varys with individual models.)
Product Features:
On-board MD5-HMAC challenge-response authentication

Standard support for Microsoft CAPI applications

CE and FCC certified

64-bit unique serial number

Standard USB interface

Application Controlled LED

Browser-based access to ePass 1000 via ActiveX Control and Java Applets

Three security levels for access to files and administrative rights

Two level file directory structure

Tamper evident hard plastic casing

Multiple color options and third party branding available
Benefits:
Secure the on board MD5 hash algorithm insures that personal security credentials are kept safe inside ePass1000, isolated from hackers, viruses and other threats

Portable ePass1000 is Hot Pluggable and may be attached to a keychain; simply remove it from the USB port and carry your sensitive security credentials with you

Low Cost ePass1000 may be used to replace smart cards in existing applications, but ePass 1000 requires no special reader

Easy to use no special development or integration work needed for Internet Explorer, Outlook, Outlook Express and Netscape Communicator

Multi Use ePass may be configured to support multiple keys and applications

Two Factor Authentication security may be enhanced by requiring the user to enter a password when using ePass1000

Password Management ePass1000 may be made to store many passwords; users need only remember the ePass1000 PIN

Integration developers may use Feitian's modular SDK (Software Developer's Kit) to integrate ePass1000 into other PKI applications
Applications:
Workstation security through Windows 2000 smart card logon

Standard E-mail signing and encryption with Microsoft Outlook / Outlook Express, Internet Explorer and Netscape Messenger

SSL secure Web access through Microsoft Internet Explorer and Netscape Navigator

PKI compatibility with Windows 98 and above, Microsoft Internet Explorer and Netscape Communicator

Secure Network Logon

Secure E-mail Communications

Secure Remote Access Server (RAS) Authentication

Secure VPN Access

Secure Access for Extranets & Intranets

Secure PC
Model
Memory
Features
Middleware
ePass1000ND-8K
8K
Driverless for Windows98SE and Later Versions Onboard HMAC-MD5 and TEA
ePassNG Multi-platform Middleware for MS CSP & PKCS#11 v2.11 API Function Provided Challenge/Response 2-Factor Authentication
ePass1000ND-32K
32K
ePass1000-8K
8K
Standard PC/SC Driver Ready for Windows Smart Card Logon Windows Vista Certified Onboard HMAC-MD5
ePass1000 Middleware for MS CSP & PKCS#11 v2.11 API Function Provided Challenge/Response 2-Factor Authentication
ePass1000-32K
32K
ePassND
1.4K
Driverless for Windows98SE and Later Versions Onboard HMAC-MD5 and TEA
API Function Provided Challenge/Response 2-Factor Authentication
Headline
high performance secure MPU

onboard HMAC-MD5 and TEA
onboard random number generator (RNG)
global unique 64-bit hardware id
up to 32K bytes secure memory
standard USB 1.1/2.0 interfaced

secure file system with hardware PIN protection

2-level file directory 3-level file access control

driverless devices availale
full support of PKI applications

PKCS#11 ready Microsoft CAPI ready
X.509 v3 standard certificate format
works streamless with standard PKI applications
RSA(512/1024) DES 3DES SHA-1 MD5 RC2 RC4

Challenge/Response ready

development lib and ActiveX support accessible via ActiveX Control or Java Applet full OS solutions for Windows 98SE/Me/2000/XP/Vista Windows Server 2003/Server2008 Linux and MacOS ( OS compatibility varys with individual models)