StorePass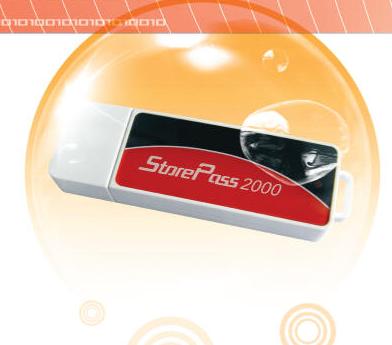 StorePass comprises Flash disk and USB key. It is a combination product of U-Disk and USB Key.
The software (including driver and middleware i.e. CSP and PKCS#11) is stored in the hidden partition of the U-Disk. The hidden partition is read-only and it is protected against user's misusage and virus.
The U-Disk supports autorun function. After plug-in, the software required by USB KEY can be installed and started automatically. It is no need for user to use CD or download the software. This can greatly reduce the maintenance cost and bring convenience to end-users. After properly configured, the preset web page can be opened automatically after the device is plugged in.
The U-disk can be used for data storage device. Multiple capacities are available, including 2G to 8GB. (Note: since a part of the disk space is reserved for hidden partition, the actual space of the U-disk might be less than announced)
The U-disk is USB 2.0 high speed device. The writing speed is faster than 16MB/s, the reading speed is faster than 17MB/s. (Note: the host machine or connected USB HUB must support USB 2.0 high speed interface)
Headline
USB Flash Plug and Play ( 2G to 8G)
Auto Run Installation from USB Flash
virtual CD-ROM supported and virus free
high performance smart card chip

onboard DES 3-DES SHA-1 RSA
onboard 1024-bit RSA key pair generation
onboard digital signature, private key never exports
onboard random number generator (RNG)
global unique 64-bit hardware id
up to 32K bytes secure memory
high speed USB 2.0 interfaced

driverless or plug-and-play devices availale
PKI enabled chip operating system (FT-COS)

PKCS #11 library and CSP ready
support standard cryptographic APIs of MS CaPI and PKCS #11
multiple key and certificate storage
secure storage of X.509 v3 digital certificates
works streamless with standard PKI systems

full OS solutions for Windows 98SE/Me/2000/XP/Vista Windows Server 2003/Server2008 Linux and MacOS ( OS compatibility varys with individual models)

Product Features:

Plug & Play, USB driverless device.

USB Driverless device
Automatically install middleware and manager tool
Automatically prompt banking login page

32KB secure memory space and 2GB to 8GB U-disk

32KB secure memory to store sensitive data such as digital certificate
128MB to 2GB U-disk

High-performance smart card chip

Card Operating System with proprietary IP - FEITIAN COS
Onboard RSA 1024 key generation.
Support RSA, DES, 3DES and SHA-1 algorithm
64bits universal unique hardware serial number
Hardware implemented random number generator

Fully support PKI application. Support CSP and PKCS#11 API

Provide standard middleware API (CSP and PKCS#11)
Support storing multiple keys
Hardware implemented digital signature
Support X.509v3 format certificate
Seamlessly integration with PKI applications, such as Internet Explorer, Outlook, Outlook Express, Netscape, Mozilla, Firefox etc.

Compliant with CE and FCC standards
Support multiple operating systems: Windows 98SE/Me/2000/XP/2003/Vista etc.
Model
Memory
Features
Middleware
StorePass2000_FT11

32K Secure Memory

2GB to 8GB USB Flash

Driverless for Windows98SE and Later Versions
ePassNG Multi-Platform Middleware form MS CSP & PKCS#11 v2.11
StorePass2000_FT12
Standard PC/SC Driver Ready for Windows Smart Card Logon Windows Vista Certified
StorePass2001
1Driverless for Windows98SE and Later versions
EnterSafe Shuttle High Speed Middleware for MS CSP &PKCS#11 v2.2
StorePass2000MD
Standard PC/SC Driver Ready for Windows Smart Card Logon Windwos Vista Certified
MS SCM Minidriver interfaced,Ready for Smart Card Based CSP,Support CNG,CLM and Vista EFS